Investment Agent Order Processing
Your contribution
Working in a National Bank call centre means working at the heart of a banking transformation that helps clients obtain the service they want when they want it and through their choice of channel. You act as a dedicated guide for thousands of clients in order to find unique solutions for each of them. Every interaction gives you the opportunity to create an authentic client experience and make your mark through your personalized approach. You are the face of National Bank!
Profile: Interest in the financial industry
Experience: 2 years of relevant experience in financial services
Language: Bilingual (English and French)
Background: You have at least a high school diploma, a Cégep diploma (Quebec) or a Bachelor's degree, depending on the position you're applying for
Work environment Stimulating workspace promoting team synergy and professional development
What does it take for a Call Centre employee to stand out on our team? Here are a few of the main characteristics: (1 Beginner – 10 Expert)
Communication skills 10
Listening skills 10
Customer service skills 10
Versatility 9
Team and community spirit 8
Autonomy 8
Sense of emergency 8
Analytical skills 7
Traits are on a scale of
0
to
10
5 key characteristics
Passionate about clients
Empathetic
Enthusiastic
Flexible
Collaborator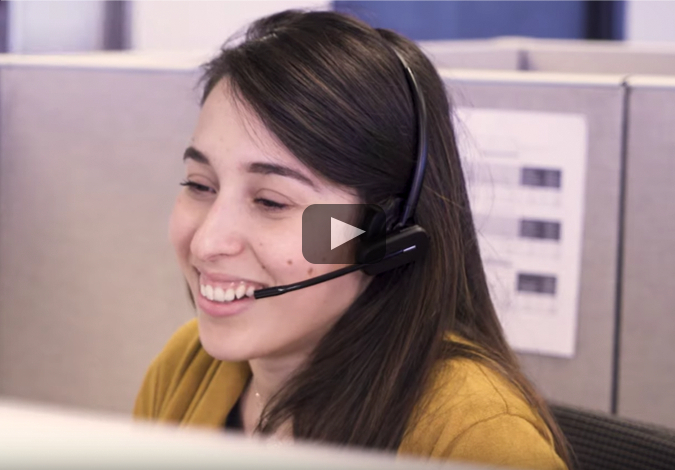 Testimonial
At Customer Experience Centre, we work in a warm, friendly atmosphere where the team acts in the interests of other colleagues and have many different career opportunities. Who could ask for anything more?

– Steve, Customer Service Agent
Advantages
Job stability

Competitive employee benefits

Numerous career opportunities

Culture of mutual support

Dynamic and stimulating environment
Investment Agent Order Processing
Job ID 25363215872
Date posted 03/15/2022
Primary Locations:
Montreal, Quebec
Do you want to be part of the dynamic National Bank Direct Brokerage (NBDB) team?
Do you want to learn more about the securities brokerage industry and do you want to make a difference?
You have completed the Canadian Securities Course (CSC) of CFA
Then this role is for you!
NBDB, a division of National Bank Financial Inc., offers a wide range of financial products and investment tools. NBDB is a discount securities brokerage firm where clients can carry out their transactions online or by phone with a representative. NBDB offers National Bank clients and Canadian investors, who are looking for autonomy and control, an economical and efficient way to trade investment products across multiple platforms. It provides clients with the information and tools needed for them to make decisions and reach their financial objectives.
After you're hired, you'll follow a 6-week training program. This will help you understand the evolving challenges in the brokerage industry.
You will be in contact with multiple clients who choose to call NBDB and expect to receive an outstanding client experience while carrying out their transactions. Joining NBDB means growing in a dynamic environment and having the opportunity to learn and progress in a team that values collaboration, innovation and client satisfaction.
Reporting to the section manager, your main challenges will be to:
Take orders to buy and sell investment instruments
Verify client identities and ensure the accuracy of information obtained
Assist clients with financial instruments
Inform clients about the accounts offered and available tools
Ensure that compliance and risk management rules are followed before accepting and authorizing client transactions, in line with the policies, standards and procedures established by the Bank and the sector's regulatory bodies
Refer clients who require more specific expertise to the people who can give them the information they need
Establish and maintain effective communications with the various parties involved in the files
Provide clients with information and explanations about the particulars and legislation surrounding each financial instrument and type of account
Resolve situations or problems to clients' satisfaction
More specifically, you will:
Provide clients and branch advisors with assistance and information about the products, services and promotions offered by NBDB
Respond to clients' requests, maintaining a high level of customer service and being proactive in a call centre environment
Carry out transactions on the stock market and with specialized financial products as requested by clients
Open retail and special accounts in keeping with existing regulations
Promote Bank and direct brokerage products and services
Show clients the different tools available on NBDB's website
Call existing clients to present our products and services or regularize a situation

The candidate needs to be able to identify all risks inherent to the Personal and Commercial Banking sector's activities.
Bachelor's degree in a related field and 1 year of relevant experience OR university certificate and 3 years of relevant experience
Completed Canadian Securities Course (CSC) Completed CSI Conduct and Practices Handbook Course OR CFA
Options trading course (OTC), a great asset
Experience in the securities industry
Customer service experience
Experience in call centres, an asset
Ability to proactively offer products and services to clients
The candidate needs to be able to identify all risks inherent to the Wealth Management sector's activities  
Bilingualism, spoken and written (English (great asset) / French (essential)
Work environment:
You will be located at the NBDB offices, 1100 Robert-Bourassa, 7th floor, in Montreal.
Each workstation is equipped with a computer screen and telephone in an open-plan office
Accommodations can be made for work stations.
In your role, you will be called on to handle and support clients over the phone for the majority of your work. Incoming calls.
Various IT applications will be used (mainly Windows, plus specific securities brokerage applications)
Business hours are Monday to Friday, 8:00 a.m. to 8:00 p.m. Schedule is 37.5 hours per week, on rotation
Your benefits 
Upon hiring, you will be eligible for a wide range of benefits. In addition to competitive compensation, we offer attractive benefits for you and your family: 
Health and wellness program, including many benefits 

Flexible group insurance 
Defined benefit pension plan 

Employee Share Ownership Plan 

Employee and family assistance program 

Preferred banking services 

Volunteer program 
Telemedicine 

Virtual sleep clinic 
These are just a few of the many benefits we offer. We've rolled out a number of additional measures to ensure your health, safety and wellbeing during the pandemic.  
We're putting people first 
We're a bank on a human scale that stands out for its courage, entrepreneurial culture, and passion for people.   Our mission is to have a positive impact on peoples' lives. 
Our core values of partnership, agility, and empowerment inspire us,  and inclusivity is central to our commitments. We offer a barrier-free workplace that is accessible to all employees.  
We want our recruitment process to be fully accessible. If you require accommodations, feel free to let us know during your first conversations with us. 
We welcome all candidates! What can you bring to our team? 
Ready to live your ambitions? 
#LI-SL1
JobField: Advisory Services, Call Centres
Job Number: SEC001LF
Posting Date: 2022-03-15
Apply now
>Send this opportunity via email

Job Alerts
Register for job alerts according to my preferences.
Subscribe
Job Matching
Let us search jobs for you based on the skills and experience listed in your profile.
Start matching